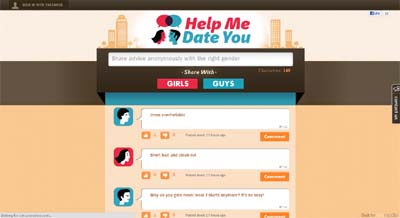 What it does:
It's a platform with short tips or advice for guys or girls. People can share tips and advice anonymously with the right gender and talk about it.
How it beats the competition:
It is very simple to use. No Login required; if you are logged onto Facebook a comment box automatically appear on a post view.
Site:
www.helpmedateyou.com
Twitter:
http://twitter.com/#!/helpmedateyou

Share Tips and Advice Anonymously with Guys or Girls - HelpMeDateYou.com

,