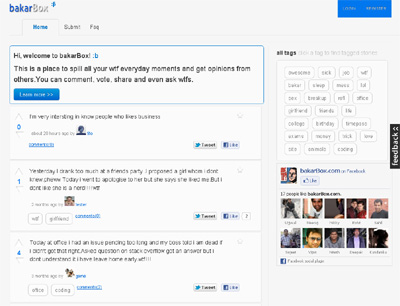 What it does:
bakarBox is a website where you can spill all your wtf everyday moments and get opinions from others.
Primarily based for Indian audience where people shy away from sharing their wtf moments and never share the truth.The website is aimed to make sure you also get opinions from others on the wtf you faced be it related to sex, or job or office or college.
How it beats the competition:
Sharing such wtf moments on social networking site is impossible for people. So we have bakarBox where user have identity as a username and dont expose their email address so that they dont get spammed from others.
So anonymous usernames gives them the freedom to spill the reality and get opinions.
Also, The interface isn't cluttered where user dont know what to do and where to go.
So please try it out once.
Site:
http://www.bakarbox.com/
Facebook:
http://www.facebook.com/bakarBox

Share WTF Moments and Get Opinions from Others - BakarBox.com

,