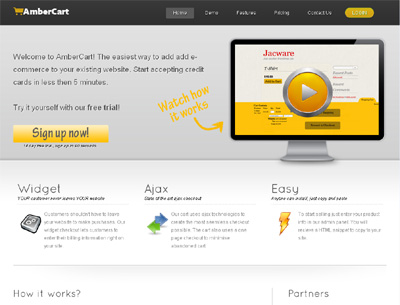 What it does:
AmberCart is an innovative and inexpensive way to add e-commerce to any website or blog. Adding AmberCart to your site takes only minutes, and will create a shopping cart right on your products page. During the checkout customers will never leave your website. Using AmberCart will convert more shoppers into buyers with its direct approach that evokes trust & confidence.
How it beats the competition:
AmberCart is the only way to start selling on you're existing website or blog without the need to forward visitors off to an existing site to process their credit card. Customers will stay on you're site for the entire checkout.
Site:
http://www.ambercart.com
Twitter:
http://www.twitter.com/ambercart
Shopping Card Widget - Ambercart.com

,