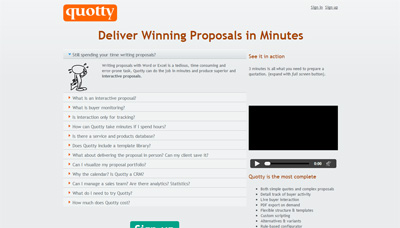 What it does:
Quotty lets you create compelling online quotations & proposals in minutes, track & interact with buyers, manage, in an effective dashboard, all your opportunities.
Why do we need it?
To prepare better proposals in less time and to effectively manage business opportunity up to completion, increasing your win rate.
Who is for?
IT projects (software, web sites, design. Hosting, SEO …) professional services (legal, consulting, events, catering , marketing, accounting, security, architecture construction & landscaping, photography …) and whenever a formal offer is needed (maintenance, staffing, vending machines, installation & maintenance, cleaning, lease …)
How it beats the competition:
1) Supports complex proposals with variants, (2) agile, desktop-like interface, (3) full life cycle support, (4) rigorous metrics including margin analysis, chance assessment and real time currency conversion.
Site:
http://www.quotty.com
Twitter:
http://twitter.com/#!/QuottyProposals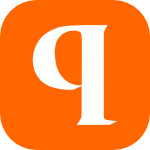 Shortest Path From Proposal To Sale - Quotty

,