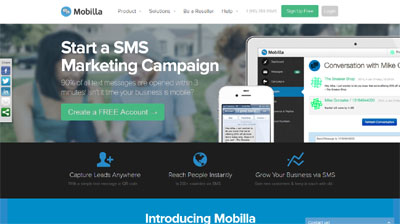 What it does:
Mobilla (pronounced mo.bill.a) is a smarter SMS marketing web app that uses exclusive local telephone numbers to help brands create more personalized and more intelligent SMS marketing campaigns.
How it beats the competition:
Nearly every provider on the market today limits their customers to the use of expensive shortcodes for sending and receiving text messages. These shortcodes are often shared by thousands of companies, limiting the availability of "keywords" that brands can use and making any misuse by other users result in the blocking of your own messages.
Mobilla phone numbers are unique for every customer, allowing you to create local campaigns fast, send campaigns wherever you want, use the keywords you want, and deliver a more personable messaging experience with your subscribers at a lower cost.
Site:
http://www.getmobilla.com
Twitter:
http://twitter.com/getmobilla
Facebook:
http://facebook.com/getmobilla

Smarter SMS Marketing - Mobilla

,