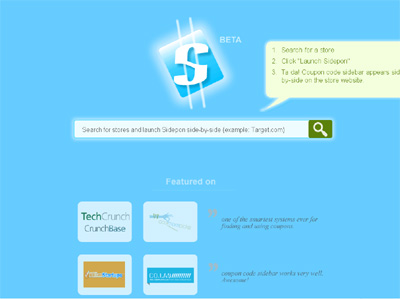 What it does:
Build innovative sidebar and display it side-by-side on retail websites. Our goal is to save the problem of current coupon code websites that force users to click back-and-forth multiple tabs / windows to try out coupon codes.
How it beats the competition:
Clean and intuitive UI. We are the first one to able to put coupon sidebar side-by-side on top 10,000 retail websites in the world.
Site:
http://www.sidepon.com/
Twitter:
https://twitter.com/#!/SideponCoupons
Facebook:
https://www.facebook.com/sidepon

The Innovative Coupon Sidebar - Sidepon.com

,