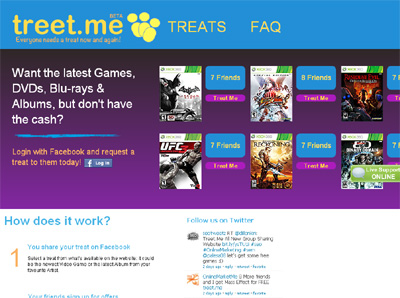 What it does:
Treet Me offers you the chance to get the latest Video Games, DVDs, Blu-rays and Albums for free. Share your treat on Facebook and let your friends help to get you your treat by signing up for offers and earning you Treet Points.
How it beats the competition:
We offer a simple to use site regularly updated with the latest and soon to be released: Video Games, DVDs & Blu-rays and CD Albums. All hand-picked by us.
We also provide the most offers that friends can complete that confirm instantly. These are regularly updated and available worldwide thanks to our partnership with Trialpay
Site:
http://www.treet.me
Twitter:
http://www.treet.me/treetme1
Facebook:
http://www.facebook.com/pages/Treet-Me/264874673588533
This Isn't Group Buying... It's Group Treating - www.treet.me,