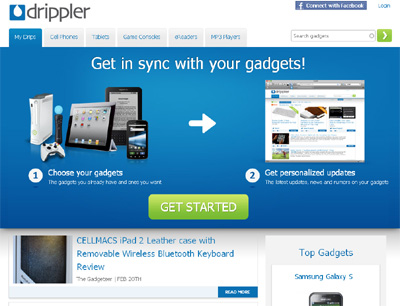 What it does:
Drippler (http://drippler.com) is the ultimate information source for gadget users, keeping them constantly excited about their gadgets!
Our web and mobile applications provide consumers with personalized updates on the gadgets they love, and help them make the most of their gadgets while making sure they don't miss any valuable content:
tips & tricks, firmware & software updates, reviews & comparisons, troubleshooting & tech-support, apps & games, accessories, recalls and more.
How it beats the competition:
Drippler is the only service providing personalized gadget updates on web and mobile.
Twitter:
http://twitter.com/drippler
Facebook:
http://facebook.com/drippler

Best Information Source for Gadget Users - Drippler

,