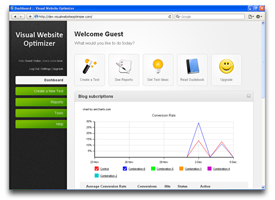 What it does in their own words:
It is a hassle-free A/B, split and multivariate testing tool that lets one increase website sales, downloads and conversions in three dead-simple steps: a) you create multiple versions of your website or landing page in a visual designer; b) you define what website goal you want to optimize (signups, sales, downloads, etc.) and c) VWO automatically split your website traffic amongst different versions and identify the best performing ones.
Primary mission is to make A/B testing an extremely pleasant experience which even non-technies can benefit from.
If you want to try the tool, feel free to use the invite code "rate-my-startup" (without quotes) while signing up here http://visualwebsiteoptimizer.com/
How it beats the competition:
It does not require any page tagging or repeated fiddling with code (like other split testing tools require)
It lets you design website versions in WYSIWYG editor, without mucking with HTML
You only need to add code once to the website. After that you can create unlimited number of tests on different parts of your website using the interface alone, without having to touch your website code ever
It looks sexy!
Unlike free alternatives, you actually get dedicated support on email
Site: http://visualwebsiteoptimizer.com/
Visual Website Optimizer - Hassle-free A/B, Split and Multivariate Testing

,