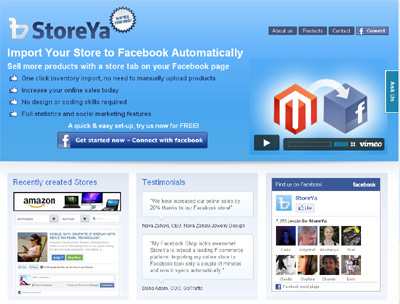 What it does:
StoreYa.com is a leading F-commerce platform designed for automatically importing web stores into Facebook, fully customizing them to fit both the Facebook arena and the original store look & feel. We pride ourselves in being the first 'by the merchants for the merchants' F-commerce platform, providing a way to discover new products in the Facebook ecosystem.
Our solutions are designed to take full advantage of Facebook's social features, including like, comment and our Cross-Platform share box.
Providing the merchants with as many tools as possible for gaining more fans, purchases and data.
Specialties
One click import web-stores into Facebook, working seamlessly with Magento and other major e-Commerce platforms, Targeting potential new customers inside Facebook, Turning e-Commerce into F-commerce.
How it beats the competition:
We make life easier for our clients.
Using StoreYa you can import your web store with thousands of products in a few minutes, a complete automatic import.
No design or development skills are required.
Site:
http://www.StoreYa.com
Twitter:
https://twitter.com/#!/StoreYaCom
Facebook:
http://www.facebook.com/StoreYacom

We Make e-Commerce Social - StoreYa.com

,