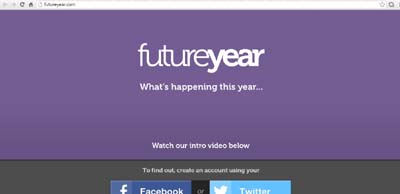 What it does:
'What's happening this year…'
Described as 'Twitter for your future'
Discover what your friends, inspirational people and favourite brands have planned for the next day, week, month, or year. Immerse yourself with what's happening around the world, or get involved locally, all on a particular day in the future year.
How it beats the competition:
We use Facebook and Twitter to keep in touch with friends, contacts and news. These networks focus on past and present connections and content, in the past and present tense. FutureYear is the future tense.
Site:
http://futureyear.com
Twitter:
http://www.twitter.com/futureyear
Facebook:
http://www.facebook.com/futureyear

What's Happening This Year - Futureyear

,