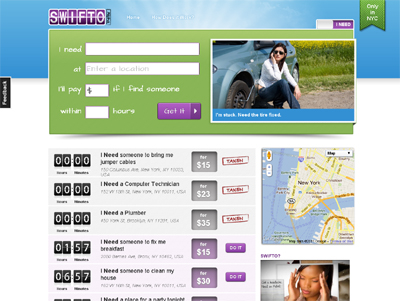 What it does:
Finds you whatever you need right now.
Whether it's someone to clean your house when your Mom is on her way, some to come help you when your tire is broken, or someone to bring you a tie when you're on your way to an interview and just stained it up.
How it beats the competition:
It's really really fast. Within minutes we can solve anything.
Site:
http://www.swifto.com
Twitter:
http://twitter.com/#!/swiftonyc
Facebook:
http://www.facebook.com/swifto.nyc

When You Need It Now - Swifto

,