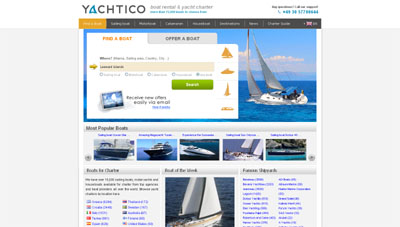 What it does:
Yacht Charter & Boat Rental YACHTICO.com provides corporate, private & event charters. Offers more than 15.000 motor yachts, sailing boats, charter mega yachts & houseboats.
How it beats the competition:
A lot of money for better techno and marketing power – it is being used effectively
Founders are serial entrepreneurs.
Berlin located – multicultural and multilingual.
Site:
http://www.yachtico.com
Twitter:
twitter.com/yachtico
Facebook:
http://www.facebook.com/Yachtico

Boat Rental & Yacht Charter - Yachtico.com

,