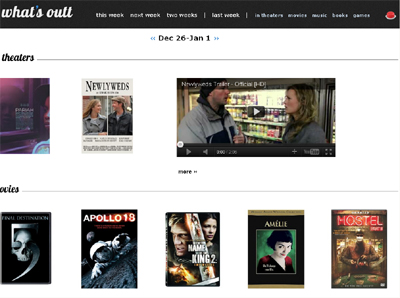 What it does:
What's Outt is the place to discover all the movies, music, books and games coming out each week.  It makes it easy to find what's new all in one spot.
How it beats the competition:
If you've ever wanted to know what new movies or CDs are coming out, you could find yourself searching the deep pages of Amazon or posting a Google search and hoping for the best.  The guys over at WhatsOutt.com asked, "Why isn't there a better way?" Thus, WhatsOutt was born, to make it easy to discover what's new all in one place.
Site:
http://www.whatsoutt.com
Twitter:
http://twitter.com/#!/WhatsOutt
Facebook:
http://www.facebook.com/pages/WhatsOutt/231046186959048

Discover Movies, Music, Books and Games Coming Out Each Week - WhatsOutt.com

,