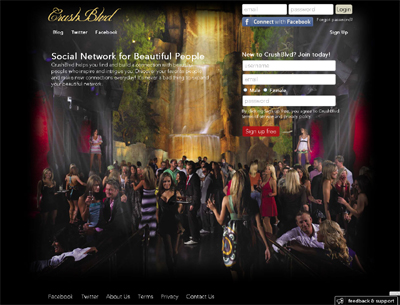 What it does:
CrushBlvd helps you find and build a connection with beautiful people who inspire and intrigue you. Discover your favorite people and make new connections everyday! It's never a bad thing to expand your beautiful network.
How it beats the competition:
Everyday we interact with many people through the internet, as technology has enabled us to create deeper, more lasting relationships with many of them. Facebook is a place to connect with family and friends. LinkedIn is a place to connect with colleagues. CrushBlvd is a place to connect with beautiful people. The blonde bombshell whose killer smile makes men weak in the knees. The tall, masculine hunk that melts the hearts of women at first glance. Or, your own ravishing friends that you invite to join.
Site:
http://crushblvd.com
Twitter:
http://twitter.com/crushblvd
Facebook:
http://www.facebook.com/pages/Crush-Blvd/248175668529580

Facebook for Beautiful People - CrushBlvd

,