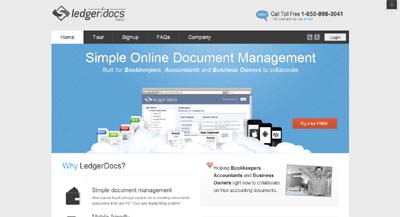 What it does:
LedgerDocs is a cloud based document management system designed by bookkeepers, for bookkeepers. It aims to connect business owners with their bookkeepers and accountants virtually in order to manage their finances.
Business owners upload their documents to their bookkeeper or accountant using LedgerDocs. They can even capture a receipt using their smartphone at the inception of a transaction. This solves the pain of collecting all those receipts every month in order to maximize tax deductions and keep up to date financial records. LedgerDocs allows these users to minimize the effort on the tasks that we all love to avoid.
Bookkeepers and Accountants are using LedgerDocs to manage multiple client engagements, which lets them keep all client documents in one, secure place. They can easily invite each of their clients to view their files, make notes, and provide context to their documents with the flexibility to access these documents from any computer.
How it beats the competition:
Unlike our competitors LedgerDocs system is purposely built for better collaboration around accounting documents with each feature carefully crafted with this in mind.
Site:
http://www.ledgerdocs.com/
Twitter:
https://twitter.com/#!/ledgerdocs

Online Document Management for Bookkeepers, Accountants and Business Owners - LedgerDocs.com

,