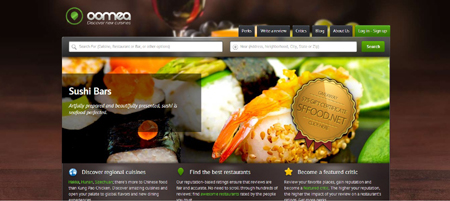 What it does:
Oomea is an innovative restaurant review platform that challenges diners to try new cuisines and open their palate to global flavors and original dining experiences. Diners can learn, through this culinary exploration, about different cultures right in their own city.
How it beats the competition:
Our reputation ranking system ensures that reviews are accurate and fair; the higher your reputation, the higher the impact of your reviews on a restaurant's ratings. Users who achieve a high reputation level become Oomea critics; they are trustworthy food bloggers who know all about the best spots and following them guarantees great dining ideas.
Site:
http://www.oomea.com
Twitter:
http://www.twitter.com/oomea
Facebook:
http://www.facebook.com/oomeaHQ

Restaurant Review Platform - Oomea

,