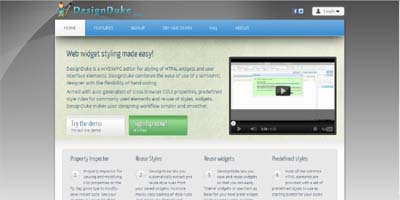 What it does:
DesignDuke is a WYSIWYG editor for styling of HTML widgets and user interface elements. DesignDuke combines the ease of use of a WYSIWYG designer with the flexibility of hand coding.
Armed with auto generation of cross browser CSS3 properties, predefined style rules for commonly used elements and re-use of styles, widgets, DesignDuke makes your designing workflow simpler and smoother.
How it beats the competition:
DesignDuke simplifies your design workflow and resides entirely in cloud. Evolve your designs with a single click!
Twitter:
https://twitter.com/#!/designduke
Facebook:
http://www.facebook.com/designduke

Web Widget Styling Made Easy! - DesignDuke.com,