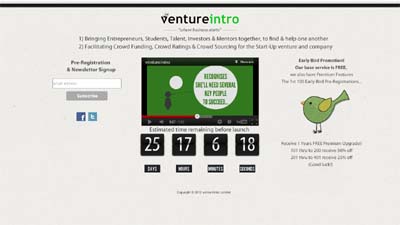 What it does:
VentureIntro matches and connects entrepreneurs, start-ups, students and professionals with like-minded people to become either their business partner, mentor, student internship, investor or skilled talent placement.
By utilising ventureIntro as a contact service that specifically drives entrepreneurs, professionals and students together, a business can jump from just an "idea" to a successful work in progress. Our free to use service also includes access to Crowd Funding, Crowd Souring, money saving Crowd Reviews and discount codes. Launching August 2012 and for those who can't wait, we're opening Beta testing registrations now.
Our most recent PR was picked up by Yahoo News…
http://news.yahoo.com/crash-off-where-business-partners-avoid-entrepreneur-perils-072558009.html
We also have a handy YouTube video http://youtu.be/n_9ie-XvqJA
How it beats the competition:
Our competition differentiators is by providing members with access to partner Crowd Funding powered by crowdcube.com, Crowd Souring powered by Blur Group, and our inhouse money saving 'Crowd Reviews' complete with discount codes relative to business products and services essential to the startup company.
Site:
http://www.ventureintro.com/
Twitter:
http://twitter.com/#!/ventureIntro
Facebook:
http://www.facebook.com/pages/Venture-Intro/258190504282963
Where Business Starts - VentureIntro.com,